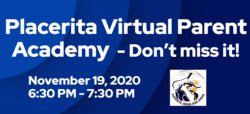 What

Placerita Virtual Parent Academy

When

11/19/2020, 6:30 PM

–

7:30 PM
See the information below or
CLICK HERE
to RSVP. Click
HERE
for a link to the ZOOM meeting. The password is 925295. We would love to see you there.
Dan Williams will be our special speaker. Dan has worked for 3 decades with young and seasoned leaders on the optimal design of their futures. He will present to us a fresh way to respond to our current realities. You will be encouraged and guided to higher ground. He looks forward to our time together.
Snapshot of his topic...
A detour is defined as a roundabout or alternative course due to the main route being closed. We are navigating through a series of detours today that have the capacity to diminish our potential if we give into disappointment or delay. Join us on November 19th and we'll work through how to make the most of this season and come out stronger on the other end. You'll leave with an actionable plan to immediately counter current conditions on your way to higher ground and a strengthened mindset to take into a bright future. See the ZOOM link below and go ahead and put 11/19/20 @ 6:30 PM on your calendar. Just so we know how many are planning on being there, click on the link below to RSVP. We look forward to seeing you there.
Join Zoom Meeting https://hartdistrict-org.zoom.us/j/83460512402
Meeting ID: 834 6051 2402
Passcode: 925295
Meeting ID: 834 6051 2402
Passcode: 925295